We find or you bring us a M, N, or P model C172 SkyHawk.
The airframe is taken down to bare metal and rebuilt with new parts.
The panel is equipped with updated avionics designed for flight training.
A new, Jet-A burning, Continental Motors Centurion turbo diesel engine is installed.
The result is a like new, flight training aircraft for $249,000 ... total.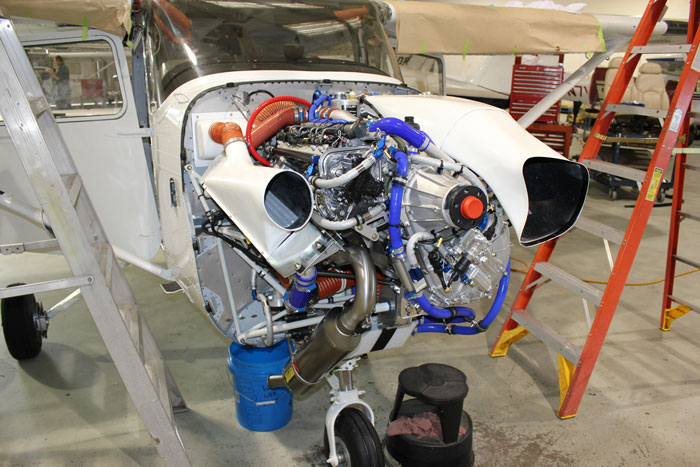 Start with the Best, Make it Better
The Cessna Skyhawk is the most stable, rugged, and reliable training platform built to date. So we don't need to reinvent the wheel, just improve on it. Every RedHawk is taken down to bare metal and the airframe is rebuilt with new parts with special attention paid to the known weaknesses of the C172.
Replacing the firewall if it shows any signs of abuse (most do)
Adding a firewall doubler to every airframe
X-raying the wing attach points and correcting any issues
Replacing all control cables
Installing all new exterior lights
Completely rewiring the full electrical system
Flight Training is Hard on Engines
One week might equal 100 takeoff cycles, 30 power-on stalls, and 20 missed approaches, all at low altitude and almost never at ISA. To meet the requirements of this demanding environment the RedHawk comes equipped with the ultra-efficient and reliable Continental Motors Centurion 2.0 turbo diesel engine. Built on a proven Mercedes-Benz core, this Jet-A burning engine is ideally suited to the demands of Flight Training offering operators both low direct operating costs and peace of mind.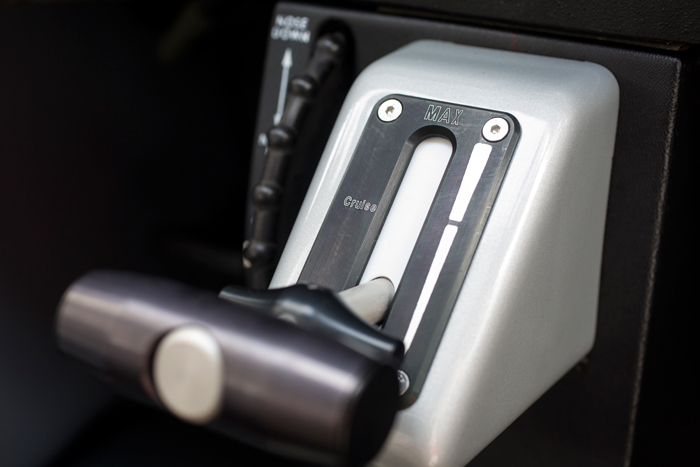 Engine Control - Simplified
Sure, diesels are reliable and efficient, but a flight training aircraft needs to be simple to operate for even the greenest student pilot. Enter the RedHawk's FADEC (Full Authority Digital Engine Control) system. A single lever is all that's needed to set the desired power and the RedHawk takes care of fuel flow, propeller RPM, manifold pressure, and turbo boost to guarantee the best possible mix of efficiency and performance in any atmospheric condition.
Student Pilot Proof
The FADEC simply won't let the pilot damage the engine.
Dual Redundancy
Dual, independent engine control computers provide redundancy and safety.
Maximize Flying Time
Fast, simple preflight checks minimize time in the run up area.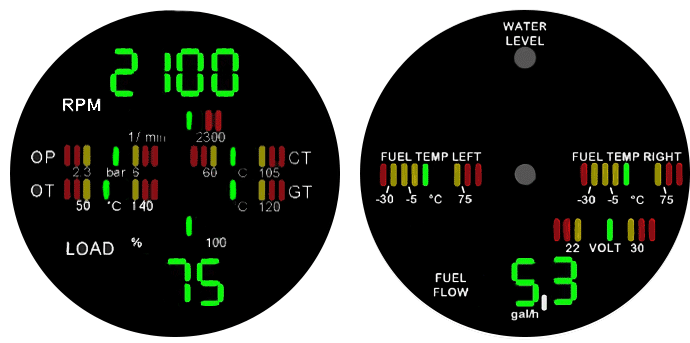 Power Settings for Everyone
RPM, MP, GPH??? Context is key to understanding and for the new student pilot without a strong mechanical background these abbreviations and their associated metrics provide no context. In the RedHawk, engine performance is set and displayed as a percent of max power, making it easy for new pilots to understand without a 3 hour ground lesson on the internal combustion engine.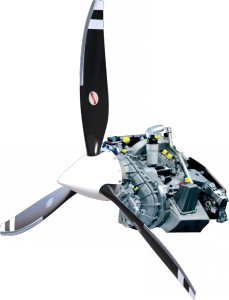 Advanced Propeller Technology
To get the most from any engine, you'll need a robust, well-designed propeller and the RedHawk comes with one of the best: The Hartzell Bantam. This lightweight propeller has three carbon fiber composite blades featuring a high performance, swept airfoil design. The lightness and superior strength of carbon fiber allows the blades to be built with wider chords and thinner airfoils, improving the RedHawk's performance and efficiency.
Performance often comes at the cost of durability, but with the Bantam that's a tradeoff you don't have to make. Hartzell's battle proven, durable carbon fiber monocoque construction and electroformed hard nickel erosion shields gives it maximum damage tolerance and field repairability.
Ground School
One of the first hurdles a new student pilot has to overcome is the inconsistent and incomprehensible vocabulary that we use to describe our airplanes. The RedHawk makes this difficult vocabulary immediately accessible to every new pilot. It's flight training even when it's sitting on the ramp.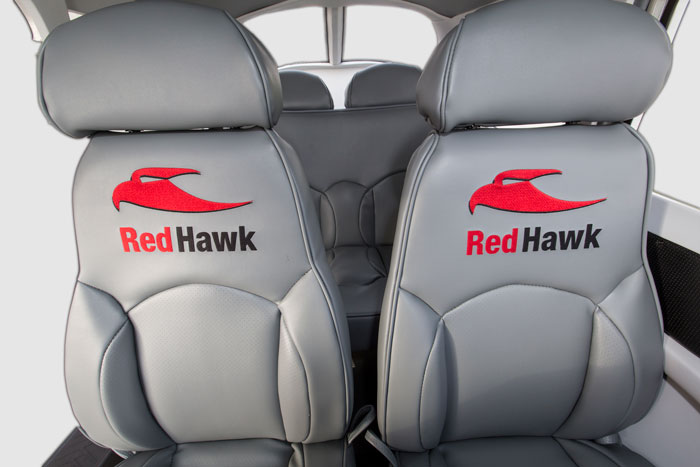 Flight School Functional
You don't want to spend hours cleaning pen marks off expensive leather, nor do you want to give up 30 pounds of useful load for faux wood trim. You want a plane that is comfortable, modern, and clean. We call it "Flight School Functional" and it comes standard with every RedHawk.
The Best of Both Worlds
Cockpit technology is rapidly evolving, but much of the existing fleet isn't keeping up. The RedHawk comes equipped with the latest advancements, but keeps the old reliable round gauges. Your students can learn both, preparing them for whatever they fly next.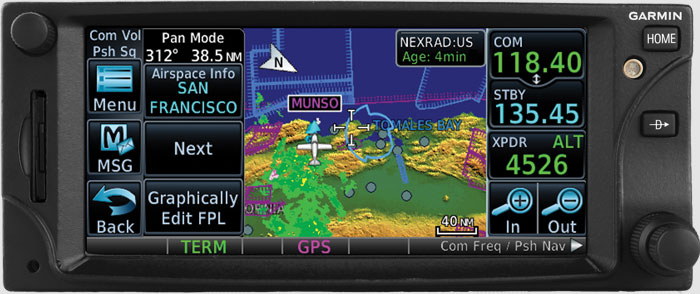 Garmin GTN 650
To complement the G500, we've added a panel-mount Garmin GTN 650. It has GPS/NAV/COM capabilities and features intuitive touchscreen operation, graphical flight planning, and built-in terrain, mapping, and obstacle databases. Since it's WAAS equipped, the GTN 650 lets students fly GPS-guided LPV glidepath approaches down to ILS-like minimums.
| | |
| --- | --- |
| Service Ceiling | 14,000 ft. |
| Takeoff Distance S.L. (Ground Roll) | 889 ft. |
| Takeoff Distance S.L. (To Clear 50ft. Obstacle) | 1,750 ft. |
| Max Climb Rate S.L. | 602 fpm |
| Max Speed S.L. | 126 kts /145 mph |
| Max Range and Endurance | 1,001 nm/10.0 hrs |
| Cruise Speed (75% pwr at 8,000 ft.) | 111 kts /128 mph |
| Cruise Range and Endurance (75% pwr at 8,000 ft.) | 811 nm/7.3 hrs |
| Landing Distance (Ground Roll) | 610 ft. |
| Landing Distance (To Clear 50 ft. Obstacle) | 1,390 ft. |
Garmin 500 PFD/MFD
GTN-650 NAV/COM/GPS/WAAS
GNC-255A NAV/COM
GMA-340 Digital Audio Panel with Marker Beacon/Intercom
GTX-330-ES Transponder with ADS/B Out
STEC-55X Autopilot** (not included in base price)
Alpha Systems Lift Indicator
CED-125 Compact Engine Display
AED-125 Auxiliary Engine Display
Backup Attitude Gyro, Altimeter, Airspeed and Turn Coordinator
Continental Centurion/Thielert TAE 125-02-99
Certified for Jet A and Jet A-1 (ASTM 1655)
Diesel Injection System
Full Authority Digital Engine Control (FADEC)
Tubular Steel Engine Mount
Shock Mounted Cowling
Push Button Electric Self Starter
Engine Exhaust Muffler
Hartzell Constant Speed Bantam 3-Blade Composite Propeller
Hartzell Composite Propeller Spinner
Normal Category
Utility Category
Ramp Weight
2,402 lbs. (1,090 kg)
2,102 lbs. (954 kg)
Takeoff Weight
2,400 lbs. (1,089 kg)
2,100 lbs. (953 kg)
Landing Weight
2,100 lbs. (953 kg)
2,100 lbs. (953 kg)
Standard Empty Weight
1,622 lbs. (736 kg)
1,622 lbs. (736 kg)
Maximum Useful Load
778 lbs. (353 kg)
478 lbs. (217 kg)
Baggage Allowance
120 lbs. (54 kg)
N/A
We provide the airframe:
$249,000
You provide the airframe:
$209,000